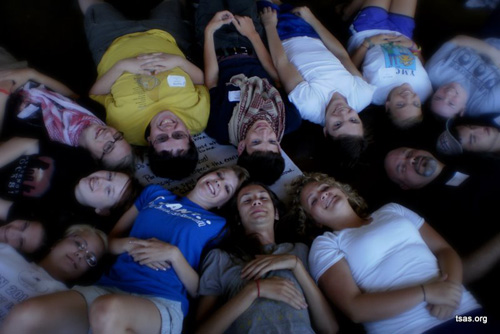 The Tulsa School of Arts and Sciences (TSAS) is a tuition-free public charter school in Tulsa, OK serving grades 9-12. Our mission is to provide a liberal arts, college preparatory curriculum for high school students through innovative teaching methods focused on developing individuals.
How Are Students Selected?
TSAS does not charge tuition, and as a public charter school, accepts all students who reside within TPS school district boundaries. However, total enrollment is limited, so when there are more applicants than can be accepted, a lottery open to the public determines new pupils. About 75 new students are accepted each year.
How Are TSAS Classes Different from Traditional Classes?
The curriculum at TSAS is rigorous and college preparatory. Advanced Placement classes are emphasized, and graduation requirements exceed the state's requirements. In addition to its rigorous college prep environment, TSAS offers visual art, jazz band, orchestra, choir, speech, debate and photography.
The school year is divided into trimesters, and students take only five 70-minute classes per session. The extended class periods allow for a more in-depth look at ideas and concepts, and time to work together with teachers. TSAS students graduate with the skills and knowledge to pursue their dreams and make meaningful contributions to their community.
Students interested in applying to TSAS should come by to pick up an application or contact us to get more information.
TSAS Quick Facts
The 2014-2015 school year is TSAS's 14th year of operation.
In 2012 and 2013 TSAS received an A on the state A-F grade card, one of only two high schools in Tulsa to receive an A.
 TSAS's 2012 ACT average composite score is 25.5, the third highest of any Oklahoma Public School.